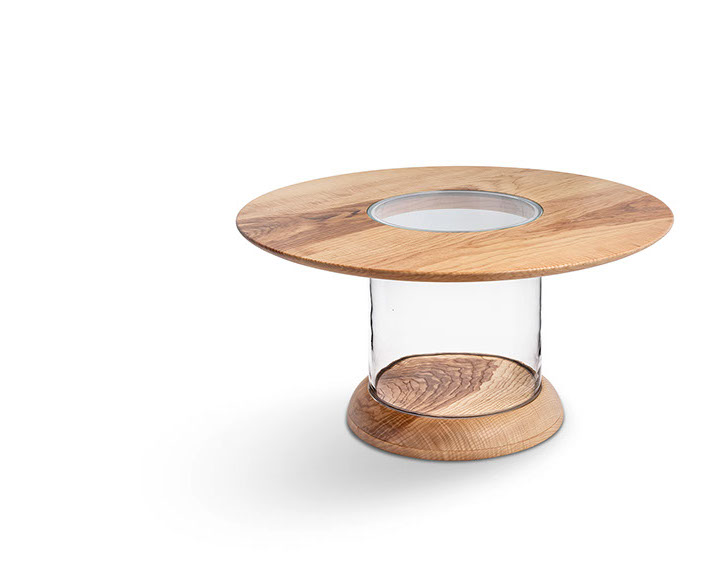 T.ash LED Coffeetable
mouth-blown, transparent glass cylinder
solid ash table top and bottom
resin-waxed surface
removable glass plate
LED-lighting with ac and/or optional battery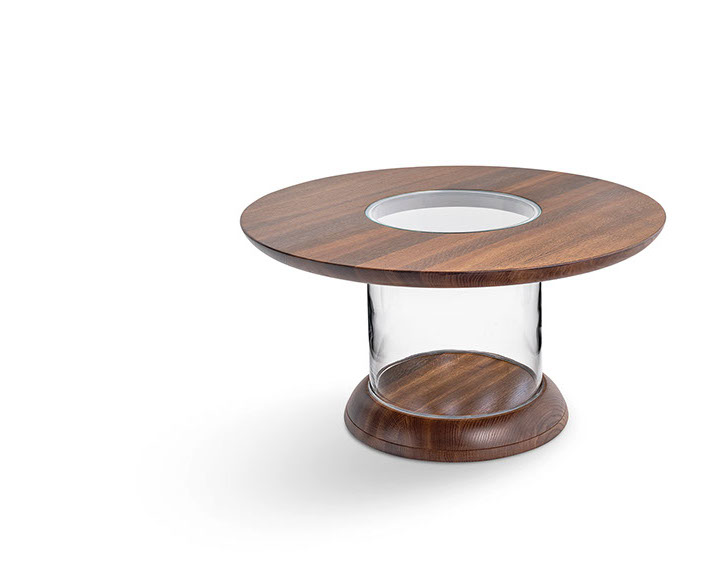 T.oak LED Coffeetable
mouth-blown, transparent glass cylinder
solid oak table top and bottom
resin-waxed surface
removable glass plate
LED-lighting with ac and/or optional battery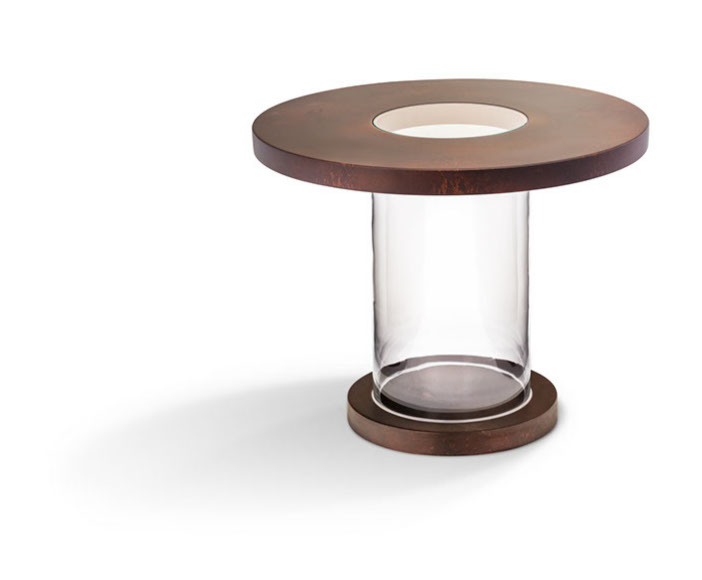 T.rust Sidetable
mouth-blown, transparent glass cylinder
MDF table top and bottom
lacquer finish in rust effect color
removable glass plate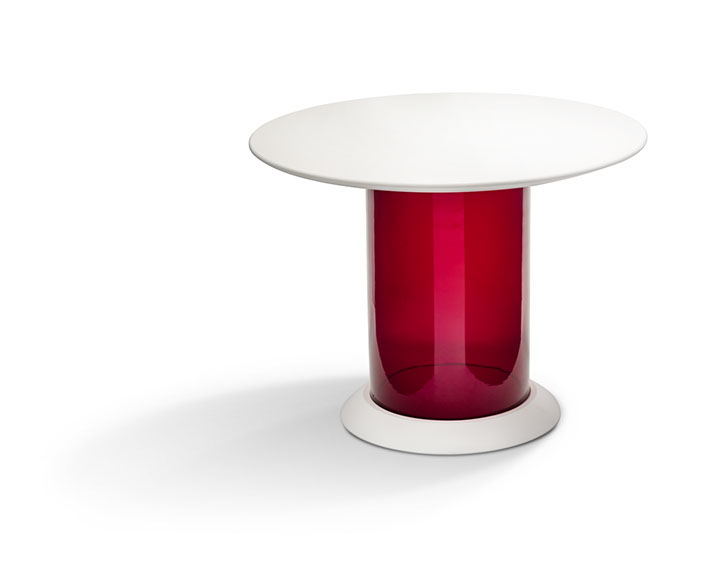 T.color Sidetable
mouth-blown, red glass cylinder
MDF table top and bottom
lacquer finish in white silk-gloss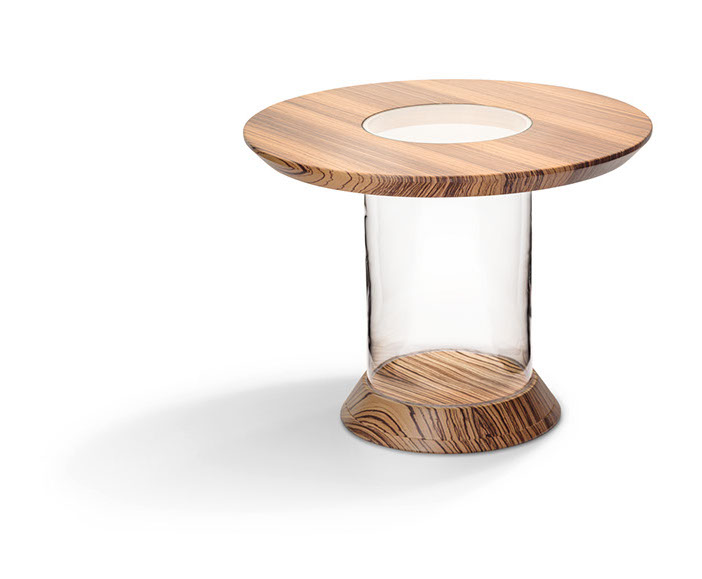 T.zebra LED Sidetable
mouth-blown, transparent glass cylinder
solid zebrawood table top and bottom
45° profiled edge and resin-waxed surface
removable glass plate
LED-lighting with ac and/or optional battery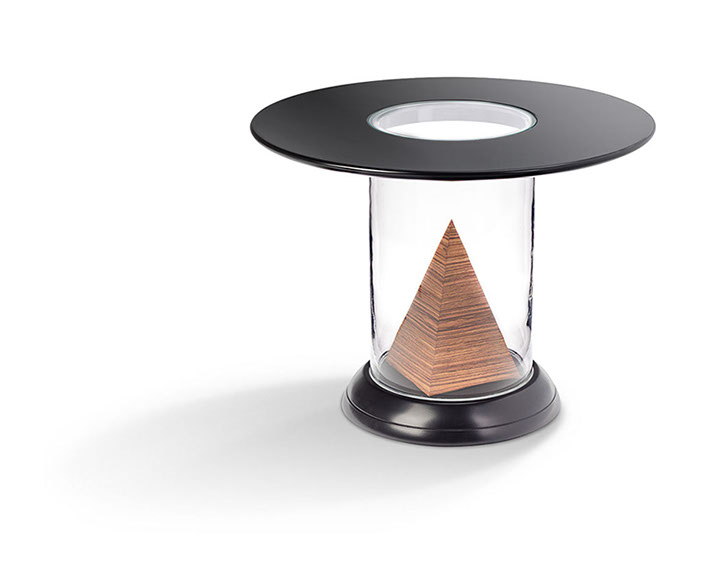 T.black LED Sidetable
mouth-blown, transparent glass cylinder
black lacquer finish
MDF table top and bottom lacquer finish, silk-matt
removable glass plate
LED-lighting with ac and/or optional battery
decoration example: pyramid veneered with zebrawood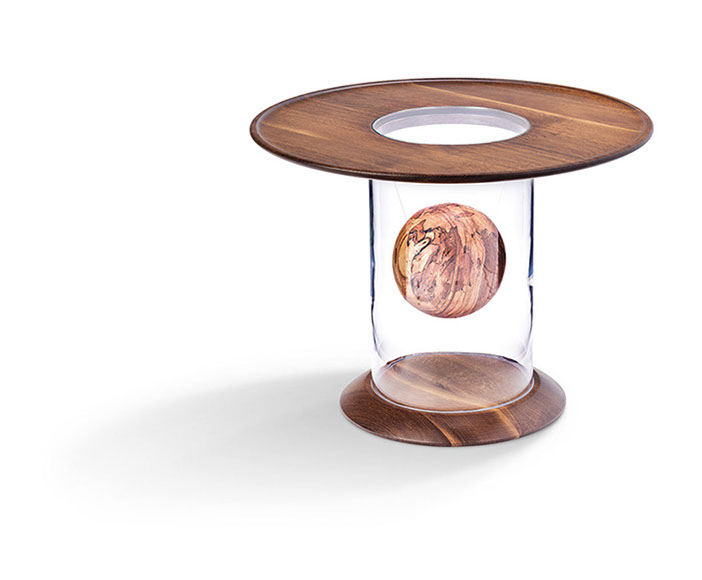 T.sphere Sidetable
mouth-blown, transparent glass cylinder
solid walnut wooden sphere
solid smoked oak table top and bottom
raised edge and resin-waxed surface
removable glass plate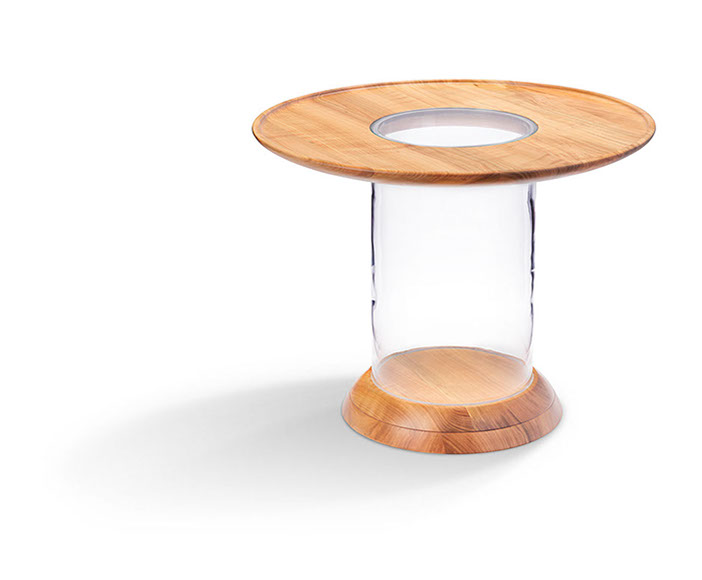 T.cherry LED Sidetable
mouth-blown, transparent glass cylinder
solid cherrywood table top and bottom
raised edge and resin-waxed surface
removable glass plate
LED-lighting with ac and/or optional battery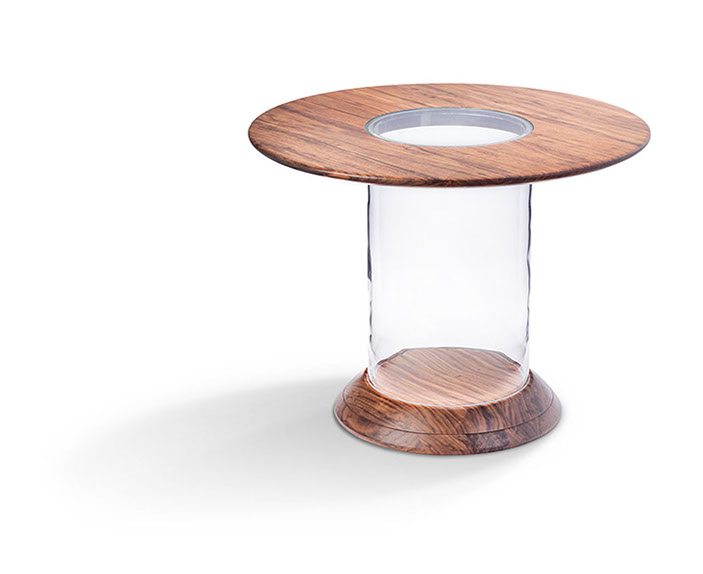 T.nut LED Sidetable
mouth-blown, transparent glass cylinder
solid american nut table top and bottom
resin-waxed surface
removable glass plate
LED-lighting with ac and/or optional battery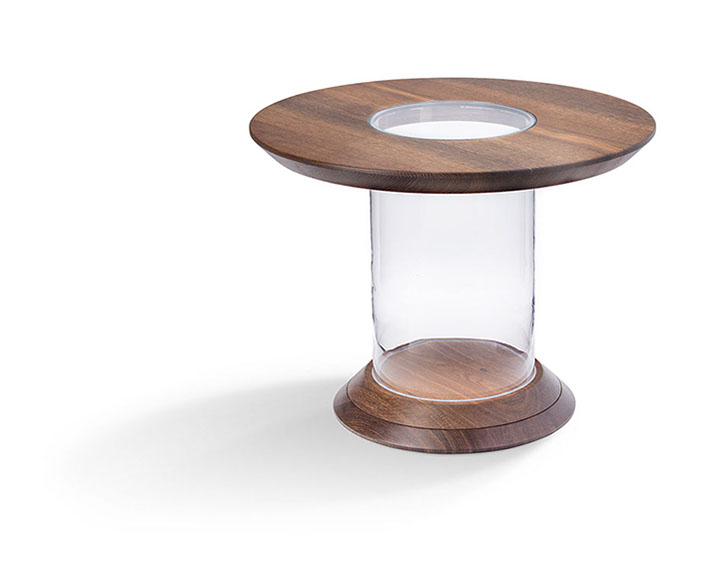 T.oak LED Sidetable
mouth-blown, transparent glass cylinder
solid smoked oak table top and bottom
45° profiled edge and resin-waxed surface
removable glass plate
LED-lighting with ac and/or optional battery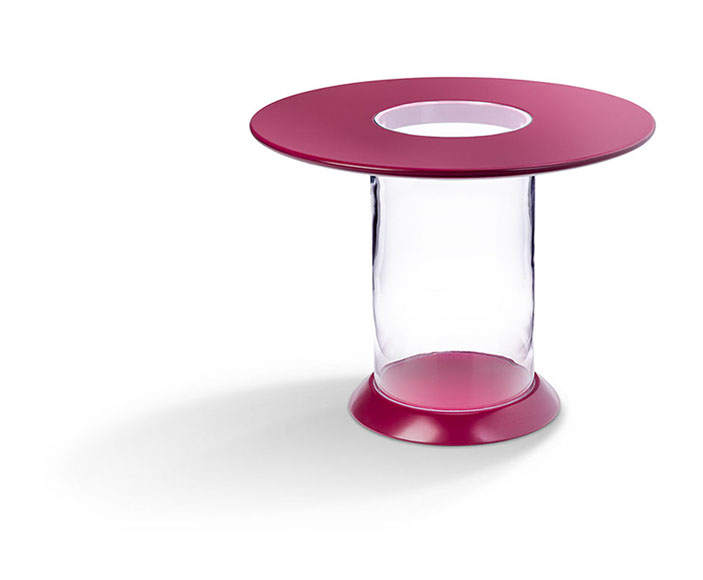 T.bordeaux Sidetable
mouth-blown, transparent glass cylinder
MDF table top and bottom
lacquer finish in bordeaux silk-matt
removable glass plate
LED-Lighting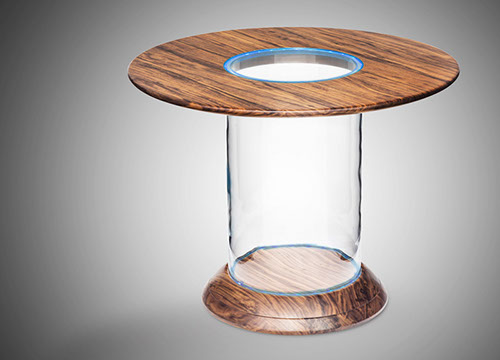 The lighting can be controlled by either an optional remote touch device or smartphone app.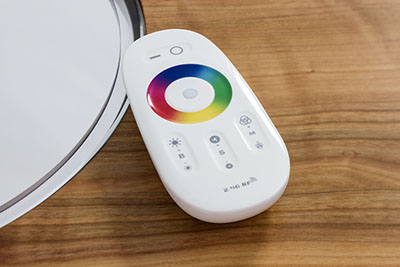 Our tables with LED-lighting offer various modes of illumination, which offer a selection of permanent or varying colour schemes.

Removable glass plate
The glass plate can be easily removed to allow decorations of your choice inside the cylinder. The LED-lighted tables create a great atmosphere in any room and a column of light illuminates the ceiling.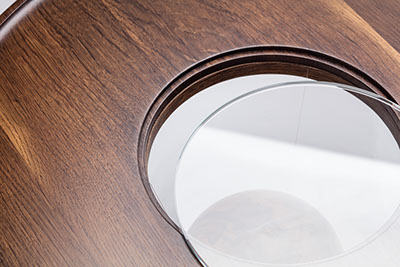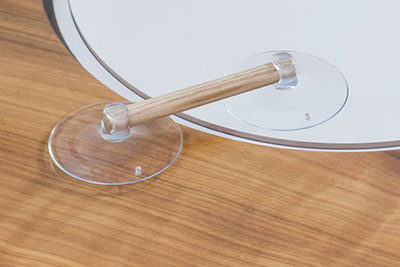 Material
The high quality wood that is used in our products comes mostly from our home region and only the best is selected. Only certified sources are used.
For surface finishing high quality natural oils and resin wax are used to bring the full visual
appearance and textural quality of the wood to the fore.
Non-toxic, water-based lacquers are used for the brilliant colours and robustness on the MDF-tables.
Technical specifications coffeetables
Approximately 40 cm tall
Ø bottom 41 cm, Ø top 80 cm
weight: approx. 19,5 kg
Lighting:
– 17,4 Watt/RGBW, 12 V
– 1 battery (optional) or ac operation
– includes touch remote or smartphone app
Technical specifications sidetables
Approximately 48 cm tall
Ø bottom 36 cm, Ø top 63 cm
weight: approx. 13 kg
Lighting:
– 13,8 Watt/RGBW, 12 V
– 1 battery (optional) or ac operation
– includes touch remote or smartphone app